Sozuri Customer Engagement
Start sending SMS and Whatsapp to build one-on-one relationships with your customers. Test the service by sending yourself a free SMS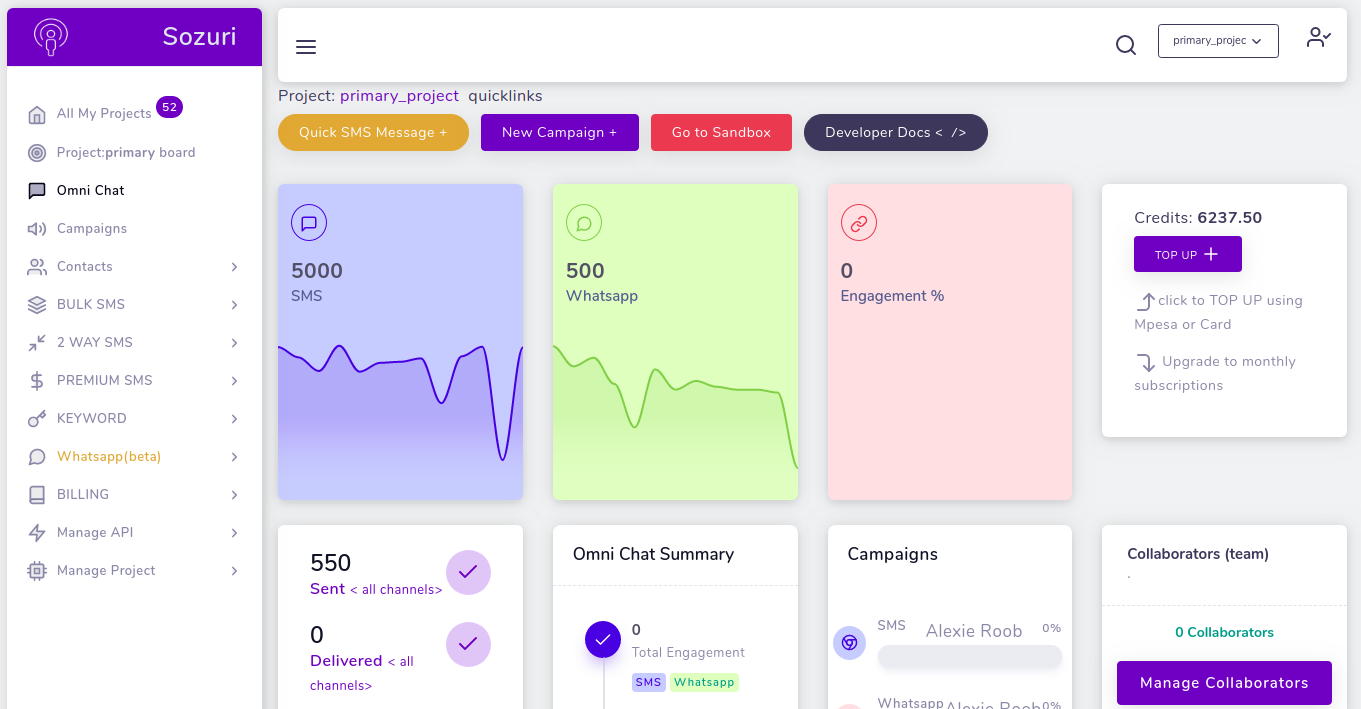 Trust starts with a conversation. SMS,Whatsapp and Chat using a single API
Sozuri Conversations
build conversational messaging experiences
We know today customers want to communicate with businesses the same way they engage with friends and family – anytime and anywhere.
Use Sozuri API to create alerts to provide customers with important proactive account and service updates; notifications on order status, deliveries, and appointments; customer self-service and support; and seamless agent assistance.
Try it Free
SMS message Credit Recharge plan
Recharge Amount (KES)
Safaricom Rate
(KES per SMS)
Airtel Rate
(KES per SMS)
Telkom Rate
(KES per SMS)
1 - 20,000
0.78
0.88
1.00
20,001 - 100,000
0.68
0.78
0.90
100,001 - 400,000
0.58
0.68
0.80
400,001 and above
0.38
0.48
0.70
Sender ID: KES 8,000 +VAT for each Network(Safaricom,Airtel,Telkom). One-time fee
GET STARTED NOW
Feature packed, making the processes of sending bulk SMS simple.
CSV and Group based contact management, Mobile Money(Mpesa) & Card Payment for recharge, Custom messaging from Microsoft Excel, SMS Scheduling, Branded/Personalized SMS and Multiple Sender IDs, Messaging and Usage Reports, Simple, stunningly fast API for Enterprise integration
Reliable | Secure | Scalable
Loved by developers Built for business.
We don't make assumptions about the tech stacks you or your team prefer to build with. That's why Sozuri is engineered to integrate seamlessly with all popular programming languages like Javascript, curl, Python, PHP, Java, C#,
TRY IT FREE
Integrations
Possible integrations